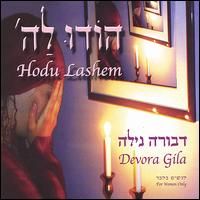 CLICK HERE TO LISTEN AND PURCHASE "HODU LASHEM"
Feeling SOOO aligned -- inspiring! Thank you for sharing your heavenly voice & salubrious high healing frequencies just when I was feeling a bit wiped. I listened to your song and started dancing and felt invigorated. - I hope we can soon all truly connect to synergize & bring more healing to one & all.
- Ita Teigman, Functional Health & Conscious Birth Doula


"Quite simply, this is one of the most powerful pieces of music I have listened to in quite some time. Devora Gila has a way of bringing to you her G-dly spirit. Listening to her music, you want to dance, and sing, and play each song over a thousand times. The music is wonderful to bring spirit into the house, women's groups, and Hebrew music classes across the world." - Shira Taylor Gura, Creator of the S.T.U.C.K. Method, Author of "Getting Unstuck"